WWDC ( 10 Minute Version )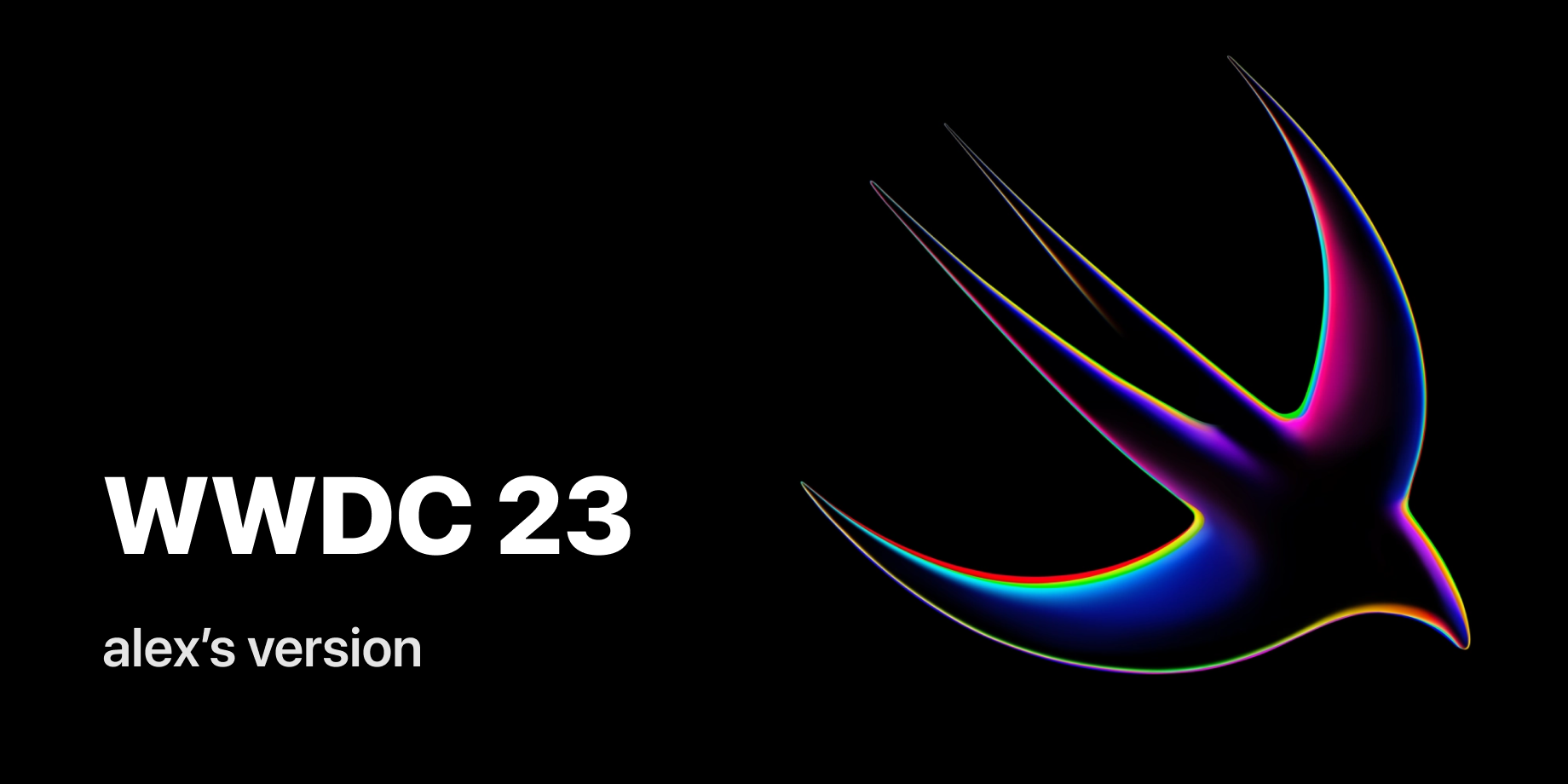 It's not always easy to cram in a full watch of the keynote, so here's my notes.
Everything is chronological, except, I've put the big thing first...
the big thing
It's called Vision Pro., and it's os is visonOS.
It's great to finally see it, isn't it? After so many years of rumors, this feels great. Personally, I can't wait to get my hands on this thing. I have no idea what i'd use it for, but you can be sure there'll be coffee book on it. Probably.
It's $3499, and it will be available early next year.
The interface & tech
It feels familiar visually, but crafted to add more physicality and dimension ( things cast shadows )
It supports virtual environments, so you can work
The headset has "EyeSight" and makes sure people can see your eyes, and you can also see people through your display. If someone comes in the room, it'll let them almost "fade" into your view.
They've added a minority report style 3D space for you to work in, moving content wherever
Typing in the air is supported, but you can also connect bluetooth accessories
Your mac can be used inside the headset, like the headset is a second monitor
There's so much to go over, but essentially they've taken things we already have, and made them 3D, or more immersive
A portable cinema mode looks great, espeically on planes
Apple Arcade is supported
Disney has come onboard to make stuff for this thing

Disney+ has AR Experiences!
Sport immersion gets to a new level, with NBA, F1, NFL and more - I can't wait for this.

The device can scan you, and then represent you with a virtual persona in calls
The device
There's inspiration from everything, from HomePod material, through to the digital crown and Apple Watch bands
Digital crown is here
The whole system is modular, so the light seal can be swapped out to fit your face
Bands have adjustments
ZEISS has optical inserts for the display, meaning us glasses folks don't miss out
23,000,000 pixels, Micro OLED. More pixels than a 4K screen per eye
Spacial audio built right in
It runs a special dual chip design, with an M2 and a specific chip for reality processing, the R1
There's a new Optic ID that replaces Face ID, using just your eyes
Developers
Some folks already got access, and they've begun building out apps alraady
Xcode, SwiftUI, RealityKit and ARKit, are all here
iOS frameworks are here, and that means we can use plenty of iOS and iPadOS apps already
Reality Composer Pro is an improved version of Reality Composer
Unity tech available, so we should hopefully see some great games!
A whole new App Store available
There was some other stuff, too...
Mac
15" Macbook Air!

"The worlds best 15 laptop" honestly this probably isn't wrong
Essentially the same as it's little brother, just with a big ol' 15", 500 nit peak brightness, screen.
18 hours battery life
Runs M2 ( non pro )
Starts at $1299
Available for order today

The 13" Macbook Air has a price drop to $1099.

Mac Studio

Apparently SNL is made on Mac Studio, so I gotta step up my game
Runs M2 Max/Ultra
Up to 192GBP unfied memory if you're training one of those LLMS

Mac Pro

Finally!
Comes with M2 Ultra, and its 3x faster than the outgoing
It has so many ports - and six gen 4 PCI-E slots!
Starts at $6999
iOS 17
Communication

Contact posters let you have the caller takeover the phone when they call
CallKit supported
Live voicemail of incoming calls, so you can decide if you want to answer
You can leave FaceTime messages now!
There's a catchup button in messages so you don't miss everything when the group chat pops off
Check-in lets your friends and fam know when you're home, without needing to do it manually
New stickers! You can even make stickers from copying subjects in photos
Airdrop

Namedrop your contact info ( its like bump )
If someones sending big stuff, you can walk away and send over the web

Autocorrect is better ( and more personal )

Journal

On device ML powers suggestions for your writing, like your workouts
Suggestions API to promote your content in the journal
Pushes to say hey, write!

StandBy

Turn your iPhone into a lil' nightstand
Uses widgets ( including third parties! )
Supports live activities ( no missing the NBA in bed! )

You can say Siri without "hey"!
iPadOS 17
Interactive widgets

Including us third party devs!

The iOS lock screen experience is here too

We can add widgets to the side of the lockscreen ( interactions work here too )

It has live activities now
Health is sync'd to your iPad now

Yes, this means HealthKit on ipad

PDFs got super powers using ML, making filling out forms real easy

They're way better in notes too, with improvements to interaction, and collaboration

More flexibility to stage manager with its window sizes
You can use the external display camera on iPad
Freeform gets better drawing features, and a "follow me" mode
macOS Sonoma
The crack product marketing team strikes once again, with "Sonoma"
Gets most of the big stuff from iPad & iPhone, i.e widgets improvements

Widgets aren't just tucked away anymore, you can also get them on your desktop.

Screensavers like the ones on Apple TV ( yes, there's one for Sonoma )
Gaming

Game Mode prioritises CPU & GPU usage for games
It dramaticaly lowers audio & controller latency
Brand new Game Porting Toolkit
Death Stranding is coming to the mac

Productivity

Video conferencing upgrades, including reactions like baloons
You can have a lovely overlay of your content and yourself, it looks great!

Safari

Locks your private windows when you're not looking
Removes URL trackers where possible
You can share your passkeys with people in a group, i.e your family, or colleagues
Profiles

Make a work & personal profile, and it seperates cookies etc

Web Apps

You can now add to your dock just like an app
They open in a simplified version of safari that feels more like an app
Audio & Home
Adaptive Audio

Uses smarts to decide if it should have transparency or not for a given sound
Personalised volume makes sure you're getting the best experience
If you start speaking, the music will be lowered for you, and the background will be turned down

Automatic switching is improved for AirPods ( woo )

Airplay

Uses intelligence to suggest where to Airplay
You can start an Airplay session via your HomePod
Airplay in hotels lets you scan and go

Shareplay is avialable in the car

You can join a session, and suggest songs
Pass the AUX, but for the modern world

tvOS

Revamped controls
Find my support for the siri remote
Supports memories for the lockscreen, just pick and go
Facetime!

Uses continuity camera
Gesture support for things like reactions
Shareplay lets you watch with friends, actually on your TV
watchOS
Big redesign!
Widgets on watchOS, including one that just holds a couple complications
They've re-designed many apps to make use of bigger screens, and a couple third parties have made some lovely stuff
Pallete is a watch face that shows time with color
Snoopy & Woodstock face ( he even gets his little running gear on when you workout )
Cycling

Connect things like power meters to your watch, letting you see stuff like cadence
There's even a power view, and it can work out your FTP, then work out your power zones
Cycling workouts show a live activity on your phone, and tapping lets you get a big screen view of your workout ( great for a phone mounted on the bars)

Hiking

Generates waypoints for last cellular connection & last SOS connection
Topographic maps available starting in the US
You can view information
Health
Mental

You can track your mental health now
It collates with what you did that day, and lets you start to think about what caused your mood
Allows for common surveys that tell you the risks of a given condition.

Optical

You can track time in daylight, great for making sure someone is touching grass enough
The FaceID camera can now tell you off if you hold your device too close
---
This whole thing was spectacular, but I don't think there's that much for us to do
If you fancy reading a little more, or sharing your experiences, I'm @SwiftyAlex on twitter.